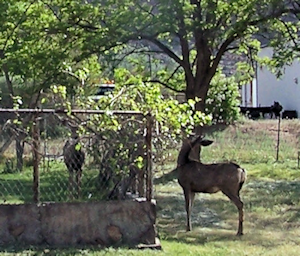 If ever there is a time that readers will stop and ask themselves, "Now, what was that!?" it will happen after they read a sentence with a dangling participle. But even though dangling participles are confusing and are certainly poor form, the unintended consequence can be worth a chuckle!
12 Dangling Participles
Check out these examples:

(1) After rotting in the cellar for weeks, my brother brought out some shrivelled potatoes.

(2) Looking out over his yard, the deer nibbled on his grape vines.

(3) At the age of 12, her father passed away.

(4) After running five red lights, the police officer stopped the speeding motorist.

(5) Driving south through Bluff, the San Juan River appeared on my left.

(6) After sitting in the freezer for three hours, my mother served the ice cream cake roll.

(7) Riding to the soccer field, a pothole nearly wrecked my bike.

(8) After being thoroughly beaten, the chef cooked the eggs. 

(9) Rushing from the restaurant, the crystal sugar bowl fell out of her pocket.

(10) Featuring four GB of memory, we can strongly endorse this computer's graphic potential.

(11) Counting his money for the second time, the clock chimed 10 o'clock.

(12) Listening to Chopin, the truck moved gracefully through traffic.
Did you sense that something was wrong with these sentences as you read them? Good! With each of these sentences the subject of the participle is either missing or misplaced. 
Definitions
Okay, what's a participle? It is an adjective that ends with -ing (and sometimes -ed). Basically, the primary role of an adjective is to modify a noun. The problem is … adjectives (including participles) have a strong desire to cling to a noun, and this desire is so strong that they will attach themselves to the closest noun they find in the sentence, even if it is the wrong noun.
And then, what is a dangling participle? It is a participle (word or phrase) that has been left "dangling" because it isn't clear what the participle is supposed to modify. Some times, the noun that the participle is supposed to modify has been left out.
Dangling participles may occasionally add humor to your writing, but most assuredly they will confuse the daylights out of your readers. Unless that is your goal (for some reason), I don't think confusing your readers is a good thing …
Next time we'll discuss what is wrong with the sentences above, how to tell that they contain dangling participles, and how to fix them!
Have a Happy New Year!
Ann
(c) December 21, 2011
Related topics:
How to Fix a Dangling Participle